How to dress for the weather in every season
We've all heard the saying—there's no bad weather, just poor clothing. Dressing appropriately for the weather has an impact on how long children can play outdoors comfortably and safely.
The most challenging temperature to dress for
You might be surprised: it isn't actually the coldest temperatures. When the temperature drops, parents understand that it's cold and are usually pretty good about bundling their children up well.
It's when the temperature ranges from 0 to 5C that dressing for the weather tends to get tricky. Parents think it's warmer than it actually is and underestimate what it's like to be outside for several hours. Add water to these temperatures and children can cool down really quickly. When in doubt, pack extra clothes.
What if you can't afford the latest gear?
Outdoor gear can be expensive. Spending over $100 on a winter jacket for a child is possible but NOT necessary. It's more important to consider:
Type of material: Avoid cotton on cold or wet days. It absorbs and holds water and sweat next to your skin and cools you down. Wool or synthetic materials like polypropylene are best in cold weather, especially next to your skin.
Layering: In cooler weather, start with a base layer of wool or polyester that fits close to the skin. Next, wear a midlayer for warmth—fleece works well here—and finally a waterproof outer layer that protects against rain, snow, and wind.
Key features: Hoods and elastic or Velcro cuffs at the wrists and ankles.
How clothing is worn: Pull pant legs over boots to keep water and snow out
These can be accomplished with less-expensive gear—and honestly, we survived many winters wearing cotton socks and sweatpants under our snowpants! If you're outside for longer periods of time, bring extra clothes as the weather can change and children get wet.
To help educators and parents understand what this should look like, a pair of Alberta-based organizations that are passionate about physical activity and outdoor play have put together this infographic with tips on how to dress for weather from 20C to -20C.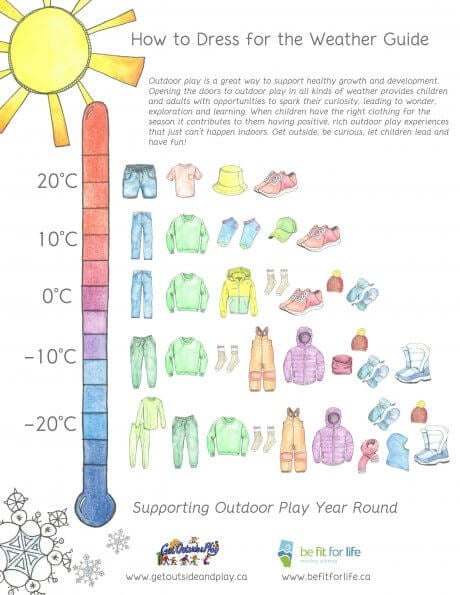 Developed by Be Fit for Life Centres and Get Outside and Play, the poster was also reviewed by educators who spend a lot of time outdoors in all types of weather with children of all ages.
Feel free to print this resource and pin it on bulletin boards, add it to newsletters, or even stick it on your fridge. It's free to download and share.
Outdoor play is a great way to support healthy growth and development. Opening the doors to outdoor play in all kinds of weather provides children and adults with opportunities to spark their curiosity, leading to wonder, exploration, and learning.
When children have the right clothing for the season, it contributes to them having positive, rich outdoor play experiences that just can't happen indoors. Get outside, be curious, let children lead, and have fun!